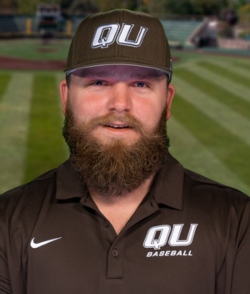 Matt Schissel was promoted as Quincy University's 12th head baseball coach on July 2, 2021. He will enter his first season as head baseball coach in the spring of 2022.  
Schissel spent three seasons as the pitching coach and head assistant for the Hawks after spending two season as a graduate assistant. Schissel took over pitching coach duties midway into the 2018 spring season.
Under Schissel, the Hawks advanced to their first World Series in 2017 and won back-to-back GLVC Tournament titles in 2017 and 2018. In his first year of taking over as the pitching coach, the Hawks' staff posted a team-ERA of 3.83, which was the lowest it had been since 2015.
Schissel came to Quincy after finishing his playing career at Central College in Pella, Iowa. During his time in Pella he was also a member of the football program for two years. Schissel was selected as a team captain in two seasons with the Dutch.
Outside of QU, he has also spent time working for Perfect Game Baseball, one of the top high school baseball showcase organizations in the country.